ICD-10 Implementation Perspective
You heard it right.  ICD-10 compliance deadline has been postponed by a year to Oct 1, 2014; but rather than giving clinics ample time, it just ends up giving everyone enough breathing space, and anyone who does not begin now may very well find themselves falling short of the finish line.  As Denise Buenning, Senior Advisor in the Office of E-Health at CMS opines, it would take a practice 10 months to complete making the changes, and then another 10 months to see if it works accurately real-time.  Of course, all of this is going to eat into the dwindling revenues of an already struggling practice.  So, is there a way clinics can minimize costs while maintaining compliance?  Yes, there is, and it comes in the form of outsourcing.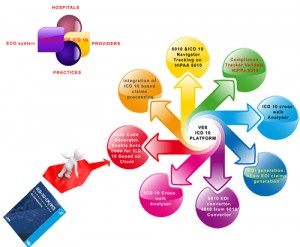 Imminent ICD-10 Implementation
For years now businesses have been outsourcing their non-core jobs to vendors, while they go ahead and concentrate on their core competency.  This is true even of the Healthcare Industry.  No clinic or hospital administrator would want their highly skilled and highly paid physicians helping to keep the "lights on" so as to speak.  Thus medical transcription and medical billing, although vital to the clinic's revenue stream, was considered non-vital from the point of view of the physicians' skills, and their management was outsourced to the plethora of companies which had sprung up to cater to the same.  These outsourced companies eventually also bore the brunt of administrative changes effected by CMS and other federal agencies.  Be it the HIPAA 500 compliance or the imminent ICD-10 implementation.
Cost effect Timely And Accurate Reimbursements
On the physician's front the biggest change in documentation methods they would have to face after Oct 1, 2014 will be in the form of a mega-superbill.  In fact a recent study conducted showed that around 60% of the physicians expected a lot of challenges in the documentation and billing departments after ICD-10.   The primary purpose of ICD-10 is to bring greater specificity in the clinical conditions documented and thus enable greater quality in patient care and also effect timely and accurate reimbursements.  At the same time the huge number of newer diagnoses codes, that invariably would become part of a bigger superbill, might also end up slowing down a physician, who is used to the limited diagnoses codes of ICD-9 seen in his customized bill.  It is here that outsourced companies can help by being more than just a clerical aide.
ICD-10 compliant
"We have ICD-10 trained specialists on the rolls who are aiding physicians in conducting walkovers from their old customized superbills to the newer ICD-10 compliant ones", says Stern of iSource , a medical billing company based out of Diamond Bar, California.   And once companies like iSource help small practices kick start their ICD-10 program, they will most likely eventually inherit the mantle of the revenue cycle management for these practices in the brave new world of ICD-10.