10 medical documentation errors that you aren't noticing!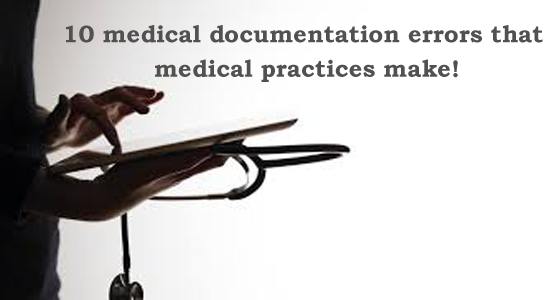 The number of erroneous medical records and fatal deaths due to documentation errors are on the rise. The insidious silent killer; inaccurate medical documentation, is the third major reason for patient deaths, ranking after heart disease and cancer. According to an IOM report 100,000 Americans are killed each year from preventable adverse effects.
1000 lives are lost every single day due to medical errors, and when the slant is on keeping costs down, medical errors are costing the nation 1 trillion dollars annually. It is easy to point fingers at inefficient EHRs and complex templates. But EHRs are just the means to an end.
To avoid errors, penalties and the loss of human lives it is important that you take steps to ramp up documentation efforts at your medical practice.
Are you making these 10 medical documentation mistakes?
1. Is your medical record incomplete? Keying in basic info is not going to make the cut. The documentation for each encounter has to be complete and include the patient's medical history, reason for the visit, diagnosis, treatment plan, test results etc.
2. Are you documenting health risk factors properly? Health risk factors should be identified and mentioned in the medical records. The patient's response to the treatment and any changes to the intended treatment plan should be included in the documentation.
3. The chief complaint or CC should be present in every medical note and documenting the History of Present Illness HPI, is essential. Most medical practitioners do not pay much attention to details, but it is vital that they do!
4. Documentation for The Review of Systems should be detailed and extensive a sketchy note will not help.
5. We've always done it this way approach is not going to work. Document the criterion behind the medical decision making. Detailing the "why" and "what" of treatments will go a long way in supporting medical necessity.
6. Avoid duplication of data. Copy and paste can save a lot of time but can prove to be fatal for your practice and patients.
7. Computerized documentation can lead you on to a bottomless pit. Don't fall for structured templates even if they are easy to use. If you repeat the same data, note after note, for weeks on end, it is going to be tough to claim medical necessity, or to get paid.
8. Do you simply state "I spent 10 minutes counseling my patient"? Documenting time more appropriately can increase your payment and aid in more evidence based documentation.
9. A lot many physicians/practice managers do not have the time to educate their staff on working with EHR systems. This in turn leads to improper documentation of medical staff. Empower your staff. It can be the best and simplest way towards better documentation.
10. Know where the errors occur. It could be oversight, impatience or just the result of an extremely tiring day. Set aside time for documenting medical records according to your least busy workdays. Input basic information and remember to build on it and add more details when you are feeling up to it!