Save your medical practice from documentation costs and tripwires!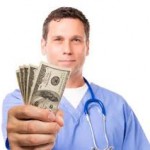 Better clinical documentation has always been a challenging issue for medical practices across the USA. With CMS initiatives emphasizing on better clinical documentation, physicians are being backed against the wall to comply or pay heavy fines. To make things worse, operational costs have gone through the over the past decade.
Medical transcription and documentation, which were once the preferred profession, of housewives and part-timers, has, metamorphosed into a specialized profession that demands high levels of experience and expertise.
Research, speak!
According to Transparency Market Research, the global medical transcription services market valued at $41.4million in 2012 is expected to reach an estimated value of $60.6billion in 2019 and at a growth rate of 5.6% in the forecast period 2013-2019.
The research also says that outsourcing has been the preferred mode of service consuming a market share of 62.2%. The fight between in-house and outsource medical transcription service is ON. And extended business office solution providers are winning, hands down!
 5 Things about EBOs your competitors don't want you to know!
Accuracy in documentation:

  A transcription company is staffed by experienced professionals and there is higher level of accountability. Mistakes in the transcripts are fairly uncommon as a flawed transcript means one client less!
Upping the game: With the new CDAR2 documentation  architecture, the transcription sent to the EHR are populated into the required fields of the EHR. And most medical transcribers are already familiar with the CDAR2 environment.
100% HIPAA compliant: Since a data breach can sound the death knell for transcription firms, there is heightened awareness, and strict measures are taken to ensure data security.
24/7 service: Remote or off-site medical transcription service providers offer round the clock transcribing support thus quickening the documentation process.
Costs can be cut by heavy margin: In-house labour is usually very expensive and experienced transcribers can charge a lot. Shifting documentation operations out of the office can result in huge cost savings.