The Age of EHRs – The Power of e-MDs
Let Go of the Old Ways
 Are you utilizing an EHR/Medical Billing software which is just an electronic avatar of the paper forms?
 Are you utilizing an EHR which has been over-engineered, so as to speak, to the extent of being totally incomprehensible to you?
 Are you utilizing an EHR which doesn't look like fulfilling the Meaningful Use (MU) requirements as mandated by the Stimulus Package?
If your answer to any of the above questions is a resounding "Yes", then let us, iSource, introduce you to e-MDs, an EHR developed by the physician community for the physician community.
Why e-MDs ?
This is as comprehensive an EHR/EMR product as you are likely to find in the market.   It also possibly could be the only EHR which was developed in a clinical setting, and the designers were actually observing what the physicians were doing everyday and how they did it, so as to incorporate the most relevant point-of-care tools into the EMR.  This unique feedback loop is what sets e-MDs apart from other EHR/EMRs, and it could well be the most physician-friendly EHR/EMR product in the world at present.
Apart from the above medical records management capabilities, e-MDs has diverse medical billing management capabilities, which focuses on rapid data entry, comprehensive analytics, quick-fire charge entry and payment posting, in-built coding engine, electronic claims and remittances, collection modules with reminders, customizable forms and letters, and a host of other functions too numerous to list here.
Meaningful Use ? – You Bet 
With its development team having one ear constantly to the ground to pick up the feeblest vibrations of the market, e-MDs designers have upgraded their product continuously so as to keep abreast of the market requirements and federal regulations such as the Meaningful Use mandate of the HITECH Act.    By meaningful use, what is implied is the usage of a certified EHR in ways that can be objectively measured in both quality and quantity.    This is made possible by e-MDs commitment to clinical informatics, like in the use of structured data and codified data as the underlying fabric of the product.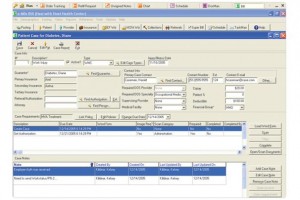 e-MDs Medical Billing Screen
The Impact
Since 2005 e-MDs has been continually ranked as the #1 EHR/EMR product in a number of reputed surveys.   The American Academy of Family Physicians and The American College of Physicians have named e-MDs the topmost EHR for multiple years.   No wonder then that e-MDs now enjoys a clientele consisting of 28,000 physicians and 2,500 practices, and 98% of them come back completely satisfied at the end of the year to renew the relationship.
Why e-MDs via iSource?
As a company which has been providing consulting and support services in e-MDs implementation for 20 practices over the span of a decade, iSource's tryst with e-MDs is as old as the product itself is (e-MDs came into the market in 1996).   We believe that this extensive experience will stand us in good stead in delivering comprehensive e-MDs implementation and post-implementation support to cover all your medical transcription and medical billing requirements.  You can reach us at 1-888-571-9069 or email:  steve@medicaltranscriptionsservice.com .