iSource is the leading global provider of Medical Transcription and EMR integration platform services, and is headquartered in California.  A rapidly growing service provider, iSource provides professional, quality services at low prices.  The large clientele is a proof of the customer-friendly services that the company provides.  The core focus of the company is to extend services in the healthcare industry to suit the various demands of customers.  We also delivers customised solutions with a smartly designed EMR platform and in a functional style to optimize customer satisfaction.
Equipped with skilled human resources in the domain of medical transcription, there is no complacency when it comes to quality.  With continuous training and monitoring of transcriptionists, editors and proofreaders, iSource constantly strives to maintain high standards of accuracy and quality in the work delivered to customers. 
The data interchange in our iSource is through a 128-bit-SSL-Certified platform that ensures the encryption of data during transmission. iSource is a HIPAA compliant company. Compliance is not the only our attitude, but we consider it as our "BIBLE." Compliance is not merely reflected in our attitude.  It is also reflected in our work.
Our service is now providing the state-of-the-art facility of integrating all types of EMR with our medical transcription platform to facilitates paperless document management. This service will be an added advantage for the physicians to take an effective path towards meaningful use and return of investments. Undoubtedly, this service will be an added advantage for physicians.
iSource is highly security-compliant when it comes to the protection of customers' healthcare data.  Fully conscious of the importance and need to safeguard data, the company has in place foolproof and tamper-proof systems to protect sensitive data of customers. In fact, access of data is limited only to those who are authorised to do so and with the right authentication.
iSource provides a completely cost-effective EMR integration and online medical report service with an excellent quality output. For all your medical records documenting services feel free to call our toll free number: 1-877-272-1572.
Service Highlights: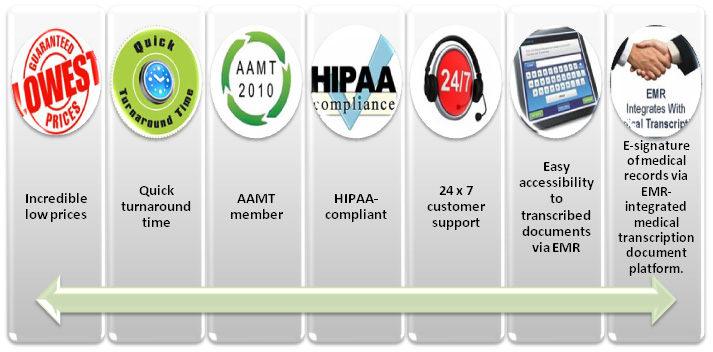 To provide round-the-clock service to our customers, iSouce has a dedicated 24 x 7 customer service line that can be reaced at 1-877-272-1572.   Customer Relation Executives can be reached on this number who will be pleased to answer queries and to provide more information on regarding price tags, TAT, etc…
Medical specialties:
iSource specialize in offering solutions for various specialties including Radiology, Pediatrics, Gynecology, Rheumatology, Pulmonology, Neurology etc. We offer cost effective online medical report storage services with excellent quality output. For all your documentation services call 1-877-272-1572 to get an immediate free quote .
A one-stop shop for medical services
iSource is a one-stop shop for various services that can be provided in the healthcare industry including quality documentation work.  We provide medical transcription, medical billing and EMR integration services for a countless number of specialties, including ENT, OB/GYN, Pediatrics, Podiatry, Psychiatry, Pulmonology, Rheumatology, Radiologic Technology, Family Practice, Emergency Medicine, Neurology, Orthopedic Surgery and Internal Medicine.
View Larger Map