Let's get introduced ! Medical Transcription Services !
MedicalTranscriptionsService has been offering medical practices tech-driven medical transcription solutions for over a decade. We started out on a shoestring budget with a handful of clients. We have now grown into a trusted medical transcription firm with a huge client-base all over the country.
Service Highlights: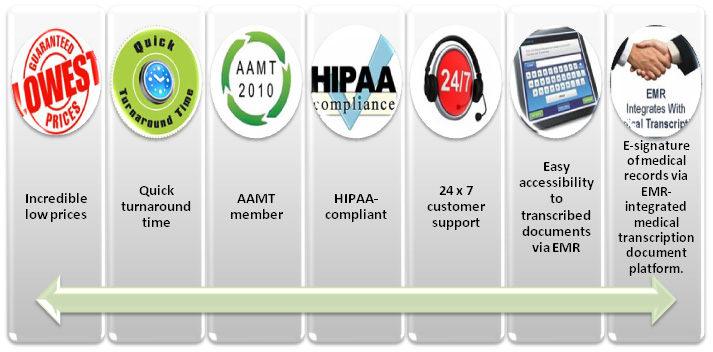 A little more about us…
Medical transcription: All our medical transcribers have several years of experience and are certified members of AAMT. Each medical specialty has a dedicated team of transcribers who specialize in offering medical transcribing and documentation solutions for that particular specialty.
Our extensive online library of medical terminologies and healthcare jargons helps us to provide accurate transcripts, every single time.  
Quality analysis: 99% is not the same as 100%! All transcripts go through three tier quality checks, before reaching our clients. Medical documentation plays a crucial role in the current healthcare scenario and we pull out all stops to make sure your medical documentation is always updated and accurate.
Data security: MedicalTranscriptionsService understands the need for data security. All our systems, are, upgraded to meet HIPAA 5010 requirements.
We follow sophisticated data encryption protocols. Our services are HIPAA and HL7 compliant. Our round the clock data security team eliminate data leakage risks.
CDAR2 transcription support: MedicalTranscriptionsService has proven expertise in working in the CDAR2 format. We can work with the newly developed protocol and deliver transcripts to clients in the CDAR2 format.
EMR/EHR transcribing specialists: Our medical transcribers can work like a breeze with all EMR/EHR systems. The most complicated of templates don't faze us. Whether it is SOAP notes or any other specific format you follow, we will deliver a transcript that aligns with your documentation needs. We also offer free EHR template designing and customization services.
Spreading our wings... MedicalTranscriptionsService, also offers, medical billing and revenue cycle management services. We provide great cost saving offers for clients who opt for both our transcription and billing services. To know more details call 1-877-272-1572.