Registered Name: iSource
Phone: 877-272-1572
medical transcription service in Florida has been widely acclaimed
Florida is privileged to have the services of some the finest Hospitals and Health care facilities such as Florida Medical centre in Fort Lauderdale, Florida Hospital East Orland in Orlando, Good Samaritan Medical Center in West Palm Beach, Brooksville Regional Hospital in Brooksville and JFK Medical Center in Atlantis etc
iSource ranked among the best transcripton service providers.It takes great pride in being associated with many Doctors/Providers from Hospitals and Health Care Centers in counties of Marion, Sumter, Lake, Seminole, Orange, Osceola, Polk, Hardee, and Highlands, who appreciate and value our Online Transcriptions service Medical Transcriptions Service works in compliance with HIPPA, for  physician dictation and medial billing services. We are providing services to more than 30 top most clients from Florida with a quest to deliver cost-effective transcription services, operating from far-away location.
How is Medical ranscriptions service Cost Effective with a Reliable Regular TAT OR Rush TAT?.
This is made possible due to our off shoring production center in India where on completion of transcription, it is sent to our quality control center at Pomona, CA for approval. Our medical transcription services are comparatively low priced, by 30% to 40% than the prices charged by companies based in the US, making our services cost-effective without compromises on quality and accuracy, and with a quick turn-around-time of 12 hours you can rely on us, to deliver.
Medical Transcriptions service with state of the art technology and expertise in its usage assures our clients of TOTAL CONFIDENTIALITY in data TRANSFER OR ACCESSING of PATIENT MEDICAL RECORDS.
Medical Transcriptions Service - Florida  with clients from different cities like Tallahassee, Jacksonville, Miami, Tampa and Orlando, who find our dedication to quality and reliability in various streams like Cardiology, Radiology, Orthopedics, Oncology, Transcriptions Service believe in giving our clients world class outsourcing services
An estimated cost comparison for outsourced Vs in-house transcription is as follows: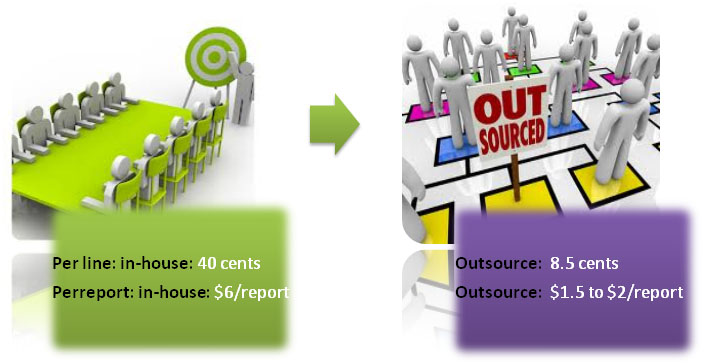 Medical Transcriptions Service offers incredible features:
Round-the-clock customer support
We charge as low as 40% of what local US services charge for medical transcription services
Minimum 12 hours turnaround time
HIPAA compliant medical transcription service provider
Your entire transcription project will be assigned to a separate transcriptionist team.
Toll free phone dictation. Call:

1-(877)-272-1572
You can check the difference between Medical transcription In-house Vs outsoucing cost in Florida. Continue reading